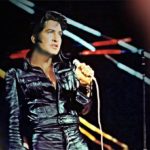 Jesse Garon is the first Elvis Impersonator in Las Vegas ever to receive The Key to the City of Las Vegas and also the first impersonator to be bestowed the honor to solemnize and conduct weddings and renewals in Las Vegas!  Jesse was trusted to performed the Mayor and current Mayor's of Las Vegas renewal of vows. for the Mayor and current Mayor of Las Vegas !!!
Jesse is also the Official ELVIS of Las Vegas according to Las Vegas Mayor Oscar B. Goodman has done more Elvis weddings and ceremonies than any other ELVIS in the World!!  Jesse offers the only Pink Cadillac Convertable Experiences in Las Vegas and originator of the Famous Las Vegas Sign Experience.
Since 1992, Jesse Garon has established himself as the premier Elvis Presley impersonator in Las Vegas. In a land of impersonators Jesse is the real deal.   Over the years Jesse Garon has been very fortunate to work with many stars and famous celebrities.  When you think of an Elvis impersonator visions of bad wigs, plastic sun glasses, and polyester rhinestone jumpsuits come to mind. Throw that stereotype out; Jesse Garon's impersonation takes you back to the nostalgic 1950′s , 60′s and 70′s. Remember when a young Elvis's gyrating pelvis caused uproars on the Ed Sullivan show?
Garon's look is finely detailed with exact replicas of such Presley outfits as the memorable gold lamé, the unforgettable jail house rock, the notorious black leather,and the rhinestone sequined jumpsuits that made Elvis the King of Rock and Roll. The ultimate compliment to Jesse's impersonation is his  Pink convertible Cadillac, the exact car that Elvis bought and used as the ultimate symbol of rock-n-roll.
Not only does Jesse have the clothes and the cars that made Elvis "The King", he has the moves and mannerisms that still make women go weak in the knees. The gyrating pelvis, winking eye, charming accent, and most important, the famous sneering lip are second nature to Jesse and why he was a featured entertainer of Legends in Concert. Garon's attention to detail and polished impersonation have lead him to be featured in or guest on numerous television networks and shows including: