These unique vegas wedding accessories are sure to make your event fit for a KING……and his Queen.  Just ask your coordinator about any of the ala cart items below, to create your happily ever after .
Gold Lame Elvis Suit with Austrian Chrystals
Direct from the showrooms and stages of Las Vegas this genuine Elvis Gold Lame Jacket used by me Jesse Garon for a few years.  Has tons of real austrian chrystals !!!  Great for that weekend Elvis or for your very own Wedding or renewal of vows.  Custom made by B&K enterprises this vegas costume is LEGIT!  Made of gold lame and in a size 42 jacket .  Should fit a guy 5 10 170lbs give or take.  Only one so grab it now.  Has small tear and some wear as shown in the pics but shines shines shines in person.  No returns on this Las Vegas original.  $650.–
Elvis 70's Style Glasses

Visions of the King. Not only was Elvis the King of Rock but also Style. These glasses have come to resemble Elvis as much as his Pink Cadillac, TCB necklaces, swiveling hips and snarled lips. Elvis often gave away his glasses and jewelry to close friend and fans throughout his life. These glasses are exact replicas of Kings made famous in the 70's and come in silver or gold frames. Ask about discounts for multiple pairs for all the King men….or women. $15 each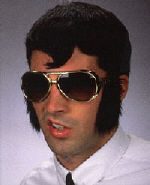 Elvis Glasses with Sideburns attached
These glasses are exact replicas of the Kings just like the ones above except these were made just for the side burned challenged fans of the king. With sideburns attached these glasses are surly to enhance your likeness to the king. A sure hit and great for all your photos and friends these are sure to be a hit. $20 each
Just Married by Elvis in Las Vegas T Shirt
This one of a kind t shirt to commemorate your special day was created by World famous artist Nick San Pedro (google him). This Las Vegas local and friend of Jesse Garon created this t shirt commissioned to represent this once in a lifetime event…..your marriage. The print includes the pink Cadillac, Famous Las Vegas Sign, Elvis himselvis (Jesse Garon) and of course the Bride and Groom. Available in Med. LG. and XL. $20 each
Elvis Scarves
The tradition of tossing scarves into the audience began when Elvis was appearing in Las Vegas in 1969. Originally he would toss one or two sweat soaked scarves during a concert. Naturally his fans were ecstatic. Eventually Elvis tossed up to several dozen scarves per show. In addition scarves were sold at the souvenir booths for fans who didn't catch one during the show. $10.
Signed Photo of Jesse Garon   
Have your picute of Jesse Garon in the shining gold lame of the 1950's or the black leather of the 68 comeback special, This 8×10 color publicity photo (suitable for framing) will be a rocking addition to your memento or wedding memories. Personalized to reflect this very very special occasion. $5 each
Wedding Cakes, Specialty Cakes and even Cupcakes
Cakes, Wedding Cakes, Grooms Cakes, Specialty cakes, even Cupcakes are delivered directly to your location. It can be as simple as a small cake for two in your suite, to a 3 tiered fondant cake decorated with fresh flowers. Candy Stations are very popular at Wedding receptions these days. You choose your color and then you have a candy station set up with various candies all in the color scheme you have chosen. Your guests can then enjoy all of the
variations.  Call or email for info.
Floral and Decor
 Need a few flowers for that Vegas sign or Suite  wedding ceremony or reception dinner?  From just a boutonieer to banquet dinner for a hundred we have it all.  

Often our clients come to us with a photograph of a particular bouquet or scene that they have seen in a magazine and want it duplicated,or they have a specific flower in mind, not to mention the color . Whatever 

your needs are, our experienced team of floral designers will work to create the look you have dreamed about. We do centerpieces, bridal bouquets,floral arches, and all floral components.   Call your reservatioist now for more.
Formal Wear 
When that special occasion arises and you may be inthe need of a Tuexedo, a Suite for the gentleman, or a Cocktail Dress or Bridal Gown we work with the best
facilities in town, that have wonderful selections of attire, not to mention their attention to customer service.  Ask your reservationist for more info.  Starting from $150.
Hair and Make up Services
If you need you hair done, make up and nails for that special occasion we can take care of you requests. Special needs such as eyelashes, tanning,facials or airburshing makeup can be done as well. We have a team that will come directly to your room.  Prices are less than you think so Ask your reservationist for info now.
 Catering and Dining  
There are so many dining choices here in Las Vegas, Henderson and Boulder City. You may be looking for a great place to have Sushi, or eat while watching a live band. J Team Events works with many different facilities. We just need to understand what you may be looking for and we can get you in the right direction. Maybe you want a private dinner at Red Rock, or have your personal chef cook you a Gourmet dinner in your Suite. That too can be arranged.     Your rervationist will be happy to answer all your questions.  Call now! 
   

Celebrity impersonators are very popular here in Las Vegas, and we have access to many of them. We handle Meet and Greets, Singing impersonators, or even something as different as having Elvis pick you up in a pink Cadillac.
               

                                                                                                               

                                                                                                                    
 

Transportation
When transportation is what you are in need of…we have it. From six passenger limousines to 14 passenger Cadillac Escalade Stretches we can arrange all of that for you. Maybe you want to explore the sites around Las Vegas and surrounding areas by car rental. We can assist in the car rental process for special discounts. Maybe you are "Green"friendly and would like that type of vehicle. We can provide a 24 passenger vehicle that is operated by clean fuel, which means Eco-friendly. These vehicles produce ultra-low emissions. For the "Party on Wheels" we offer party buses that have nicely appointed lounge seating with fiber optic lighting, with TV's and DVD's.